District VII
This area of the city is largely uncluttered by tourists. The Great Synagogue (the starting point to touring the quarter) does get quite busy but once you venture beyond it into the crumbling back streets you may well find yourself completely alone. The area has a feeling of complete authenticity and in many sections virtually nothing has changed since the closing days of the Second World War. Here and there you will see closed and abandoned synagogues, while several streets still have operational Jewish grocers and religious supply shops. The Jewish community seems to be drifting back to this section of the city. To learn more about the tragic history of the area, stop in at the museum in the Great Synagogue.
Gozsdu UdvarGozsdu udvar - Endless linked courtyards
This unique series of interconnected courtyards and buildings stretching between Kiraly and Dob streets came within a hair's breadth of being demolished. This would have been an act of the utmost stupidity, as anyone strolling the now-empty passageways would agree. It once boasted apartments and many artisans' workshops and small retailers.
Great Synagogue
Second in size only to the one in New York, this amazing Byzantine-Moorish construction is situated on the edge of the Old Ghetto. It was recently
restored and re-inaugurated in the presence of famous Jews such as Yitzhak Rabin and Tony Curtis. Admission costs HUF600. This is the ideal place to
begin visiting the historic, old Jewish area of Budapest, which in many places seems somehow lost in time. Enjoy the history and grandeur. 10am-4:30pm Mon-Thu; 10am-2:30pm Fri; 10am-1:30pm Sun; Closed Sat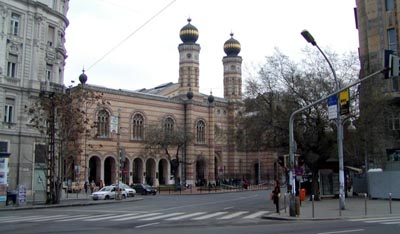 Jewish Ghetto
Here, there are seven courtyards between two streets, and before the war, they were buzzing with small shops and people plying every imaginable trade.The area is located just behind the Great Synagogue and was once the centre of Jewish life (which was largely unrestricted during the war). Take the opportunity to visit it while you can as it is a very evocative area, now sadly threatened by redevelopment.