District VI
District VI is the city's mainstream cultural wedge and features Andrassy Ut, Budapest's most beautiful boulevard. Budapest's very own 'Broadway' crosses it at Nagymezo utca and the Opera House and Liszt Academy are also comfortably ensconced here among the hundreds of eclectic buildings. Franz Liszt ter has become the city's social hot spot, particularly during the summer when the hip hold court at the half a dozen outdoor bars and cafés that spill out onto the pavement.
Hungarian State Opera House
Famous Hungarian architect Miklos Ybl completed this building in 1884. Its style is very neo-Renaissance with a wildly exotic interior featuring
cherubs, marble, gilt and frescoes. A 45-minute tour of the building in most major languages can be arranged for HUF900. These tend to start at 3pm or
4pm; go to the door on the right of the building, beside the sphinx. Tickets to see the opera here are extremely inexpensive.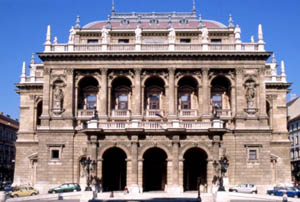 Andrassy Bulevard
Once you get past the rather built up and hectic (though still picturesque) section of Andrassy ut that leads to Oktogon, you will discover that the street suddenly changes. Huge and beautiful buildings with intricate and ornate façades are separated from the main road by grassy traffic islands - reflecting good urban planning.
This street was constructed as part of the nation's millennium celebrations in 1896, along with the M1 metro, which runs beneath it. It was started in 1872 and took twelve years to complete. Since then, it has been renamed several times: first after Prime Minister Andrassy, then it changed to (believe it or not) Sztalin (i.e. Stalin) ut and after Stalin was denounced it was changed again to 'Avenue of the People's Republic'. Finally, in 1990 it changed back to Andrassy ut - which many had continued calling it all along. Enjoy a stroll all the way up to Hero's Square, from where you can catch the M1 back to Vorosmarty.
Millennium Metro
This short metro line (marked in yellow on all the maps) was the first underground railway to be built in continental Europe (London's was the first ever). It was built just below street level for the 1896 millennium celebrations. Only 11 stations long, it starts at Vorosmarty ter, followed by Deak ter and heads up through Opera and Oktagon, running under Andrassy ut to Hosok tere and finishing two stops later at Mexikoi ut.
As it takes in many of the tourist sites, it's a very useful and quick way of getting about. All the stations were refurbished in 1995/6 and remain virtually exactly the same as they were when first built. Make sure you go down the correct entrance - trains run on the same side as the direction of the traffic above them. Normal metro/bus tickets can be used.