District XIV
District XIV is situated in the eastern part of Budapest. It is also called Zugló and includes many smaller quarters like: Alsórákos, Herminamező, Istvánmező, Kiszugló, Nagyzugló, Rákosfalva, Törökőr and City Park. City Park commonly known as Városliget is considered as the most picturesque and interesting park in Budapest. In the park you may visit Museum of Fine Arts or Vajdahunyad Castle. There is also Municipal Zoological and Botanical Garden which kids love to see. Then you may take them to Theme Park that includes wide choice of roller-coasters. If you want to relax yourself and feel like if you were in some fashionable spa, then visiting Széchenyi Medicinal Baths and Swimming Pool may be a good idea.
Amusement Park
Expect dodgems, a fine merry-go-round and allegedly the oldest wooden big-dipper in Europe. This park is located just behind the zoo and is great fun for kids. The whole area is geared towards a great day out: besides the amusement park, you will also find two museums, a huge green space, thermal baths, the circus, and much more. It's a busy and fun place to spend a few hours, or the whole day. The easiest way to get here is on the yellow metro line, also called the Millenium Metro, which is in itself quite an
attraction, as it is the oldest metro on the continent.
Heroes' Square (Hősök tere)
VI. Hősök tere, Metro: M1 Hősök tere, Show Map Built in 1896 to celebrate the millennium of the Hungarian conquest of the Carparthian Basin, Heroes' Square is a vast and grandiose symbol of 19th-century Hungarian nationalism.
An imposing 36-metre high column which supports the winged figure of the Archangel Gabriel (György Zala 1896) is encircled on its pedestal by statues of the seven conquering Magyar tribal chiefs on horseback. Behind, are two semi-circular colonnades housing the statues of the most famous rulers in Hungarian history.
The stone tablet in front of the main column, which on ceremonial occasions is guarded by soldiers, commemorates those who died for national freedom and independence. The square is flanked on either side by the Szépmüvészeti Múzeum (Museum of Fine Arts) and the Múcsarnok (Palace of Art).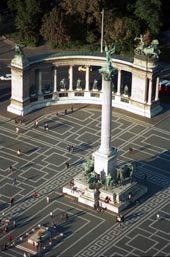 Vajdahunyad Castle (Vajdahunyad Vára)
XIV. Metro: M1 Széchenyi fürdő, Trolleybus 70, 72, 75, 79, Bus, 4, 20, 30, 105, Show Map
Originally constructed in 1896 as a temporary exhibit for the Hungarian millennial celebrations, the castle proved so popular that it was eventually replaced with an identical permanent structure.
The portcullis entrance is always popular with children - the eerie statue of Anonymous opposite the main entrance less so. Part of the building also now houses the city's Agricultural Museum.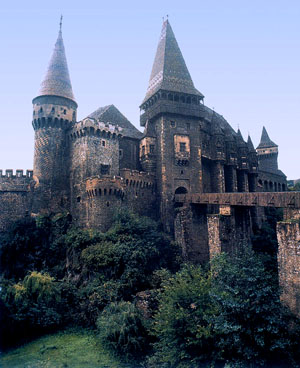 City Park
The park is dominated by the Vajdahunyad Castle - originally built for the 1896 millennium celebrations - which represents every style of Hungarian architecture. In summer, there is a lake for boating, which in winter is turned into a huge and very popular skating rink. It also houses the Museum of Agriculture and a statue of George Washington. This was erected to thank America for taking in so many Hungarian immigrants in the early twentieth century.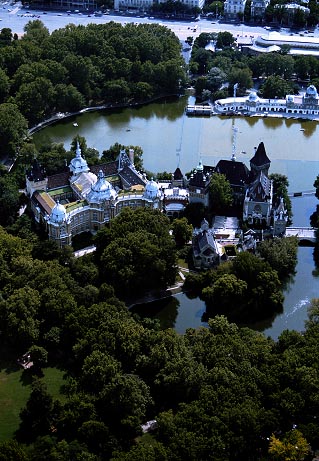 Szecshenyi Bath
Perhaps the most popular swimming and bathing area in the city, this complex offers five mixed curative baths, four women's pools and three men's pools. The water comes from almost a kilometre underground. The open-air swimming pool is huge, and there is a wide range of activities on offer, e.g. underwater gymnastics. The roof is for sun-seekers and offers men's, women's and mixed nude sunbathing. A complete medical team is also on hand for advice and therapy. Some services are seasonal, so do phone ahead to check. 6am-7pm daily (subject to seasonal time changes and closings)